Well, as the PhD is getting closer to the end, I decided to test what I learned so far in 0x1C years of existence. So I found this test:

(yes, I know, I could do better..)
As for geekery: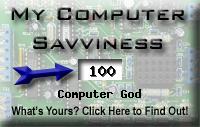 (that was easier.. I guessed two of the questions though)
So I am more geek than nerd. Good to know
.
I still remember one of the old ones, with 500+ questions or something like that.. It took almost an hour to finish for the first time. Good old times, when computers were big and softwares small…..